Heather Ludemann leads the Foundation's work on marine conservation and fisheries management in the United States. In this role, she led an update of the U.S. Marine Strategy, which will guide the Foundation's ocean grantmaking and other related investments from 2018 – 2021. Following below, Heather highlights key aspects of the revised strategy, offering insights and additional detail about the Foundation's decisions, goals and objectives.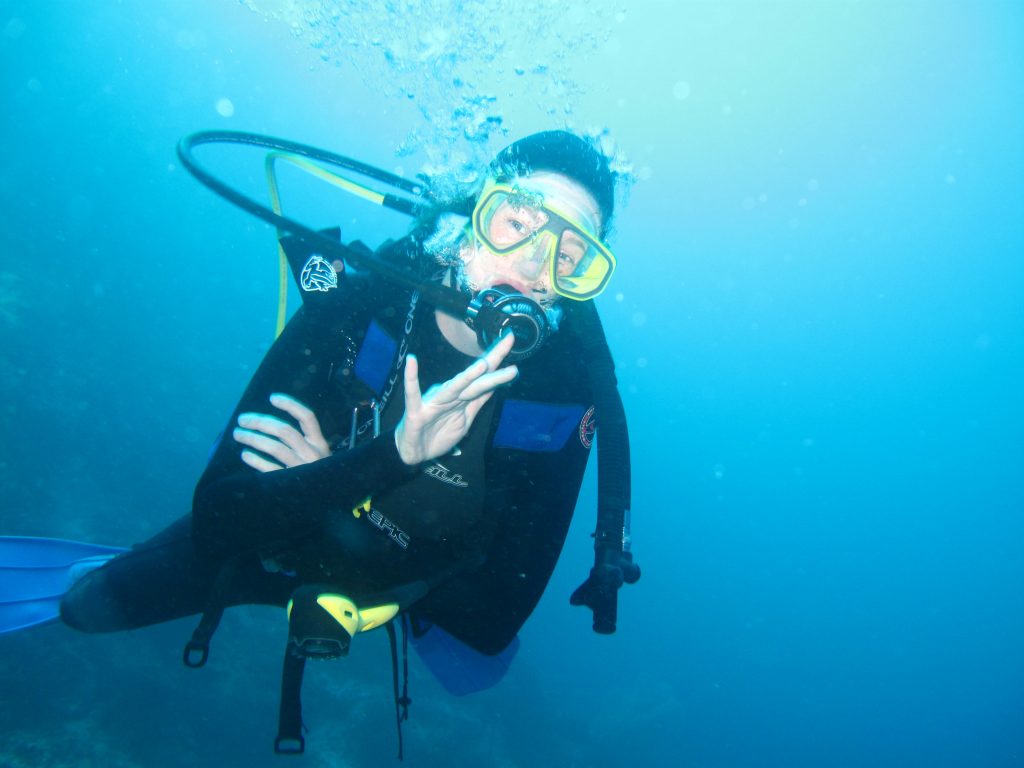 Share your first connection to the ocean and an experience helping others connect to it.
Spending time on the ocean with family was a big part of my growing up. My dad was a sailor, so we spent a lot of time on Long Island Sound and the surrounding beaches. It seemed pre-ordained that we would learn to scuba dive together as a family many years later when I was in college. My first time scuba diving blew me away. I was amazed by how much life was right under the surface of the water. After college, I took a job on Catalina Island off the coast of California, teaching kids about the ocean. One of my favorite parts of the work was teaching kids how to snorkel. Many of my students grew up in southern California, yet had never been to the ocean, let alone seen what was living below the surface. Being a part of their exploration as they navigated a new and different environment was a real pleasure.
What is the Packard Foundation trying to accomplish through the updated U.S. Marine Strategy, and how is it different from the original 2014 U.S. Marine Strategy?
First, we are concerned by the potential for historic rollbacks to ocean conservation achievements. Four years ago, I would never have anticipated that today we would be faced with a proposal to expand offshore drilling in 90 percent of U.S. coastal waters. Policies that are informed by rigorous science and strong management are what has made our nation a global leader on ocean conservation. It would be reckless to undermine that science-based management at a time when the world's private and public sector leaders recognize the need to take a long-term view and collectively boost our conservation impact.
Second, we are doubling down on work that will help prepare fisheries and fishing communities adapt to the consequences of climate change for West Coast marine ecosystems. Many fishing communities are already grappling with the impacts of climate change. Further innovations and advancements are necessary to thrive in a rapidly changing world.
Finally, we will support growing the U.S. ocean conservation movement. Opportunities are greater than ever to engage more people and to rally around common goals, be it preventing new offshore drilling or continuing to rebuild U.S. fisheries. Small businesses, city and state leaders, indigenous communities, scientists, fishermen, young people and communities of color are some of the many groups that we should be working with to safeguard the ocean. We are also clear that to be relevant, the ocean conservation movement must be more inclusive, working toward equitable solutions.
How does the U.S. Marine Strategy connect to the other strategies in the Foundation's Conservation & Science program?
The U.S. Marine Strategy is part of the Packard Foundation's 15-year Ocean Strategic Framework, which prioritizes sound marine management in six countries: Chile, China, Indonesia, Japan, Mexico and the United States. Given the extensive scientific capacity and strong governance in the U.S., we are uniquely positioned to test new ideas and approaches here that could be applied in other countries. Of course, this means taking into account the local context and working with regional organizations to adapt tools and approaches. In addition to serving as an incubator for innovative ideas, the U.S. also has tremendous buying power in global seafood markets because of the amount of seafood we import. This buying power can be leveraged to address illegal, unregulated and unreported fisheries, including putting an end to human rights abuses and slavery on fishing vessels that catch seafood imported into the U.S.
The work that our Climate program is doing to help mitigate carbon emissions is critical given what we know about their impacts on ocean ecosystems. Coastal communities already are impacted by rising sea levels. Ocean acidification and changing water temperatures threaten the livelihoods of fishing communities, marine species and food webs, as well as the efficacy of marine protected areas and fisheries management. Ultimately, we'd like to see management and policy better incorporate and proactively address climate impacts.
What gives us all hope that the ocean can be protected?
We have seen ocean ecosystems and fisheries recover – so we know it can be done. Monterey Bay, for example, was depleted, overfished and polluted. Now, it is a functioning, thriving marine environment that people visit and enjoy. That gives me hope. Now is not the time to turn back the clock on strong, science-based management and conservation. There are many other examples that demonstrate we can restore our ocean and fisheries. These success stories, and the passionate people who make them a reality, give me hope. People, both individually and in caring organizations such as our grantees and partners, make this work possible. More than ever, we appreciate their dedication and steadfastness during challenging times.