Richard Cudney leads the Packard Foundation's work on marine conservation and fisheries management in Mexico and Chile, and our work on conservation of marine birds in Latin America. In this role, he recently led the development of the Foundation's Mexico Marine Strategy, which will guide its ocean grantmaking and other related investments from 2018 – 2021. Below, Richard highlights his personal story and interest in the ocean and key aspects of the revised strategy. Lea más en español, aquí.
Tell us about your first experience with the ocean. What captivated you then and continues to interest you now?
For as long as I can remember, I have been deeply connected with the ocean. I was born and raised in Mexico City, but had the opportunity to travel to the coast regularly with my family throughout my childhood. I am told I took my first steps in a town on a beach along Mexico's Pacific coast.
My earliest ocean memories came soon after. I remember feeling peace with the ebb and flow of the waves tickling my feet, enjoying the sense of my toes sinking in the sand. Later, I felt the adrenaline rush as I became more adventurous and ventured deeper into the ocean, riding the waves only to be tumbled as they crashed repeatedly. I've been hooked ever since.
I have seen the  faces of my two sons light up upon watching a pod of hundreds of dolphins while riding the bow of a boat, or when fishermen bring in majestic fish after a long day of hard work in the water. I do what I do in great part because I want them and other youth to have these experiences for generations to come.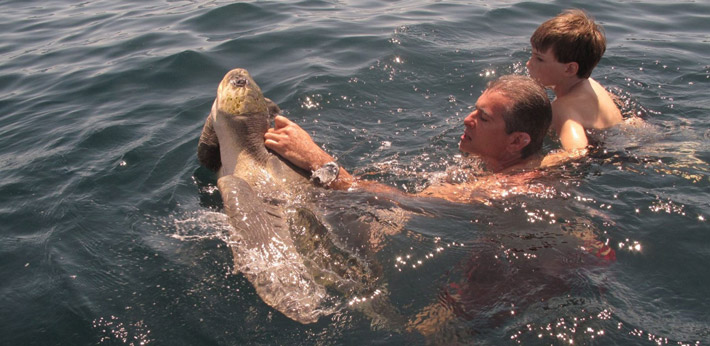 What keeps you passionate about the ocean and conservation efforts at the Packard Foundation?
I am in an incredibly privileged position to work with wonderful people in Mexico, a country that I love dearly, and that the Packard Foundation can support efforts to maintain or improve the health of the ocean. I am driven by the grantee partners we work with and am inspired by their passion and resilience, as well as that of so many fishermen I have met throughout my 20 years working on marine issues. I have seen firsthand the power of a deep connection to something we love and care for as well as the resolve of people and how it can trigger long-lasting change. I have also seen the progress that can transpire when civil society, businesses and the government effectively work together to find solutions to what at times can seem unsolvable complex problems.
When did the Packard Foundation start working on marine issues in Mexico? Why is this strategy necessary?
The Packard Foundation has been supporting marine conservation work in the Gulf of California since the early 1990s and our first Gulf of California strategy rolled out in 2002. In 2011, as this work progressed, and some success was achieved, the Foundation approved its third 5-year strategy for the Gulf, with the goal of ensuring sufficient ability to safeguard the region's biological diversity, ecosystem goods and services, and associated social well-being.
This new strategy recognizes the progress and learning that happened in the Gulf of California over the years, and pivots to support more national-level changes. Much is needed to address the threat to Mexico's marine environment and to protect fisheries, their habitats, and the livelihoods of the communities that depend upon them. The importance of these efforts cannot be understated given Mexico's important standing in fisheries and aquaculture production, its role as an economic and political leader in Latin America, and its high marine biodiversity value.
Our pivot to support work at a national level for the first time goes hand in hand with the Foundation's recently approved Ocean Strategic Framework, for which six countries, including Mexico, were selected as focal areas for the Foundation's investments.
Describe the three top goals for your work as outlined in the new strategy.
By working with civil society, government, the business sector, and philanthropic partners, we aim to create an atmosphere conducive for achieving sound marine and coastal resource management in Mexico.
Ultimately, we aim to see long-term change where:
Most of Mexico's fisheries are on a path toward sustainability, and sound fishery and aquaculture management systems are in place.
A network of sustainably managed areas maintains the country's marine biological diversity and productivity.
The long-term integrity of key coastal ecosystems is maintained.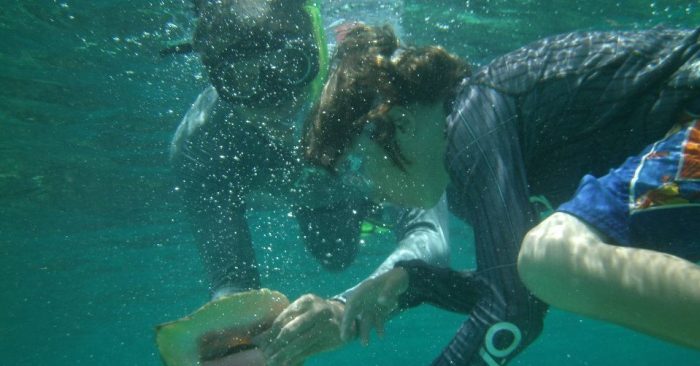 What are the biggest challenges to overcome in Mexico?
The majority of Mexico's national territory is marine, and 25 percent of its population lives on the coast. Mexico's ocean and coasts can contribute significantly to the country's food security through a productive and sustainable fishing and aquaculture sector, mitigate poverty, give way to social wellbeing of coastal communities, and offer opportunities for the responsible growth of regional and national economies through tourism and other activities.
Yet, Mexico's ocean and coasts have lacked the attention they deserve, not only as a source of food security, wealth and sovereignty for the country, but also to serve as an example to the entire world of what a country blessed with such a vast coastline and marine territory could look like if we had a more integrated, long term vision for management.
In this regard, it would be beneficial for Mexico's leaders to think about the future of its ocean and coasts, one that offers wealth and food to its citizens and is not driven by overexploitation or mismanagement to benefit few, be it stemming from a national or international demand. How powerful would it be if Mexico had a long-term vision for its ocean and coasts that is grounded in sustainability, and the pragmatic and regulatory framework to help materialize this vision? I think it is imperative that we foster a paradigm shift that recognizes and embraces the health of our marine ecosystems, as well as the maintenance of cultural and biological diversity – as treasures, and not obstacles, for economic and social well-being.
What are your key 2018 takeaways on ocean conservation efforts in Mexico?
In March, the country hosted the World Ocean Summit in the Riviera Maya organized by The Economist. There, the Mexican government sent a clear message that it is committed to work toward a more sustainable future for its ocean and coasts. It also led the way internationally with the establishment of marine protected areas in the Pacific and the Caribbean, including the largest marine protected area in North America.
Likewise, the country's National Commission of Aquaculture and Fisheries (CONAPESCA) established several new fishery refugia, areas that are protected for replenishing fisheries. After five years of monitoring the first networks of refugia established in 2012, data shows the establishment of these refugia is paying off, so much so that fishing organizations not only requested their reinstatement this year, but also petitioned to the Mexican government for their expansion.
The sustainable seafood movement in Mexico also gained more traction, with demonstrated public commitments for sustainability from major retailers including Walmart Mexico.
While progress was made on various fronts, there were also some significant setbacks. Perhaps the most salient, despite years of conservation efforts and millions of dollars invested, is that the endangered Gulf of California harbor porpoise, vaquita marina, is on the brink of extinction after failed efforts to protect the species. Illegal fishing is still prevalent and new population estimates show the vaquita is in grave risk as it continues to be caught as bycatch in illegal fishing nets.
We are launching this Mexico Marine Strategy amidst a historic political change in Mexico. The country has a new democratically-elected president who vows to curb poverty and strengthen a national agenda rooted largely in the country's self-reliance, regional development, and competitiveness.
Much of the answer to the goals of what the new administration wants to accomplish and, ultimately, for the country's future well-being will rely on Mexico's vast ocean and coasts. It's poised to set an example to the world and, more importantly, to its own citizens of what better management of its ocean-dependent assets could look like. We very much look forward to continuing to support our grantees and the Mexican government in building a brighter future for Mexico, its ocean and coasts.