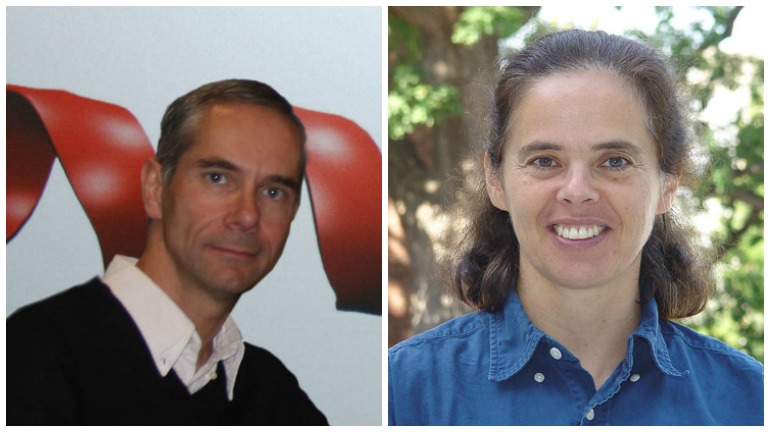 The David and Lucile Packard Foundation has appointed Dr. Martin Gruebele and Dr. Éva Tardos to the Advisory Panel of the Packard Fellowships for Science and Engineering. These renowned professors join a group of internationally-recognized scientists and engineers who annually select Fellows from a field of early-career scientists and engineers nominated by presidents of 50 universities. Both are former Packard Fellows themselves.
The Packard Fellowships for Science and Engineering were established in 1988 to allow the nation's most promising scientists to pursue science and engineering research early in their careers with few funding restrictions and limited reporting requirements. The Fellowship program arose out of David Packard's commitment to strengthen university-based science and engineering programs, recognizing that the success of the Hewlett-Packard Company, which he co-founded, derived in large measure from research and development in university laboratories.
"We are thrilled that Dr. Gruebele and Dr. Tardos are joining the Advisory Panel and will bring their rich background and experience—along with their perspective as former Fellows—to help select a new generation of early-career scientists with breakthrough ideas to pursue as Packard Fellows," said Dr. Frances Arnold, Chair of the Packard Fellowship Advisory Panel and Dickinson Professor of Chemical Engineering, Bioengineering and Biochemistry and Director of the Donna and Benjamin M. Rosen Bioengineering Center at the California Institute of Technology (Caltech). "These distinguished professionals were once chosen to be Packard Fellows because of their outstanding work and the promise they showed early in their careers. They've gone on to accomplish great things—adding tremendous value to their fields and to our society."
Dr. Martin Gruebele (1994 Packard Fellow) was born in Stuttgart, Germany. He obtained his B.S. in 1984 and his Ph.D. in 1988 at the University of California, Berkeley. Dr. Gruebele went on to do femtochemistry in the lab of Dr. Ahmed Zewail at Caltech, and then moved to the University of Illinois, Urbana-Champaign in 1992. He is currently the James R. Eiszner Professor of Chemistry, Professor of Physics, and Professor of Biophysics and Computational Biology. He is a Fellow of the American Physical and Biophysical Societies, as well as a recipient of the Sackler International Prize in Biophysics, the Coblentz Award and the Wilhelm Bessel Prize, among others. He is a member of the German National Academy of Sciences, the American Academy of Arts and Sciences and the National Academy of Sciences (USA). He has served as Senior Editor at the Journal of Physical Chemistry and serves as Associate Editor of the Journal of the American Chemical Society. His research includes protein and RNA folding, fast dynamics in live cells, vibrational energy flow in molecules, quantum computing and quantum control, optically assisted STM, glass dynamics and vertebrate swimming behavior. The work is published in over 200 papers and reviews. Dr. Gruebele is married to Dr. Nancy Makri, with two children, Alexander and Valerie.
Dr. Éva Tardos (1990 Packard Fellow) received her Dipl.Math. in 1981, and her Ph.D. 1984, from Eötvös University, Budapest, Hungary. She was Chair of the Department of Computer Science at Cornell University 2006-2010 and she is currently serving as the Associate Dean of the College of Computing and Information Science. Dr. Tardos is a member of the National Academy of Engineering and the American Academy of Arts and Sciences, and is the recipient of Sloan, Guggenheim, ACM and INFORMS fellowships. She has also received the Fulkerson Prize and the Dantzig Prize. She was Editor-in-Chief of SIAM Journal of Computing (2004-2009) and is currently editor of the Journal of the ACM, Theory of Computing, and Combinatorica. Dr. Tardos' research in algorithms and algorithmic game theory focuses on the design and analysis of efficient methods for combinatorial-optimization problems on graphs or networks. She is most known for her work on network-flow algorithms, approximation algorithms for network flows, cut, and clustering problems. Her recent work focuses on algorithmic game theory, an emerging new area of designing systems and algorithms for selfish users.
The Advisory Panel will recommend 18 Fellowship awards for approval by the David and Lucile Packard Foundation Board of Trustees this September 2016. The Foundation will then announce the next class of Fellows on October 15, 2016. Follow the Packard Foundation on Twitter (@PackardFdn) and join in the conversation about the Fellows Program by using the hashtag #PackardFellows.