Shaping the Future for Healthy Oceans: Together, We Can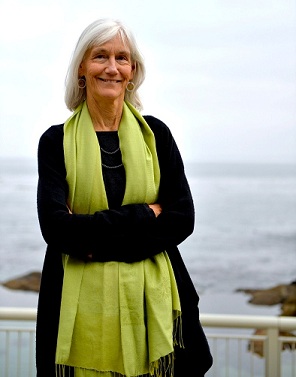 (photo credit: Motofumi Tai)
Welcome everyone and thank you for making the journey to the coast of California for the important work of the next few days.
I grew up just a few miles away, over the mountains, in what's today known as Silicon Valley. I'm just one of many who have drawn inspiration and energy from this very special piece of ocean along our coast. For the past 30 years, along with my involvement as a trustee of the David and Lucile Packard Foundation, it's been my privilege to direct the Monterey Bay Aquarium – where we've introduced over 50 million people to the incredible ocean life just off our coast.
This evening we stand on the shores of a vast ocean system whose health will determine the future prosperity of the human species, and our very survival. At this moment in time, we are in fact, both literally and figuratively: on the edge. The collective action of everyone in this room – whatever we decide to do — will shape the future for humanity on this planet.
By being here, I am assuming that each of you already understands the critical role the oceans play in enabling life on Earth to exist. They make the oxygen we breathe and buffer us from the impacts of rising greenhouse gases and global temperatures. They serve up protein for millions and millions of families and children. They're our pantry, our lungs, our playground, and a massive driver of global commerce. And, they're a source of inspiration and innovation for technologies that will sustain us into the future.
This stretch of coast where we stand has inspired generations of ocean leaders, from scientists to policy makers, from technology innovators to ocean advocates. The shores of Monterey Bay are home to two dozen public and private research institutions that are using new technology – and new thinking – to understand the living ocean and inform a course for the future. The Monterey Bay Aquarium Research Institute, founded by my father 25 years ago, is a pioneer in developing new technology to accelerate our understanding of the rapidly changing ocean and the role of human impact in that change.  Other institutions here are focusing on understanding changing ocean chemistry and food webs, documenting the epic migrations of tunas to inform fisheries management, and analyzing weather systems that affect everything from shipping safety and national security to rainfall patterns on our farmlands.
Indeed, Monterey Bay is one of most studied pieces of ocean on the planet. And in turn, California has demonstrated huge leadership in environmental policy, from legislation limiting greenhouse gas emissions to the largest marine protected area network in the United States. And yet, the more we learn, the more complexity the ocean reveals to us. We're scrambling for predictability and solutions in an era of escalating change.
It's fantastic to see so many great thinkers gathered to talk about the ocean. Based on my long term experience as a trustee of the Packard Foundation, I can tell you that thirty years ago, few funders and NGOs were focused on ocean issues. Today, it's gratifying to see growing attention to the ocean – after all, it is Earth's largest natural system.
The work of government, NGOs, and learning institutions has driven much of this progress, fueled with a lot of help from private funders and leaders who care. But there's still a missing factor that's not fully engaged, and it's one that I believe is the critical key to reversing the trajectory we're on – and that factor is business leadership.
That's where you all come in. In recent years, new ocean initiatives are focusing on partnerships among business, government and NGO players. These initiatives are yielding promising results, but collectively we can and must do more.
The 2012 Economist Ocean Summit concluded that the health of the oceans must be included in Corporate Social Responsibility initiatives. It's a long-overdue and welcome idea – because business leadership has so much to contribute to solving the challenges we face.
The Monterey Bay Aquarium itself is a product of a transformational collaboration between technology business leaders and conservation scientists. Today, the Aquarium hosts nearly 2 million people a year. It's an anchor for a thriving tourism economy, in turn supporting conservation science and building a constituency for the oceans.
The Aquarium's Seafood Watch program, now in its 15th year, is an example of how successful business partnerships can improve the health of the oceans, and the wellbeing of people worldwide – blending science, market data, and technology to generate environmental, social, and economic benefits.
Today, more than 100,000 business locations in North America rely on Seafood Watch science to inform their purchasing practices. We have partnerships with the two largest food service companies on the continent – Compass Group and ARAMARK – along with global food products companies like Mars. They all have made firm commitments to shift their seafood purchases to sustainable sources, and they're reaping market benefits as a result.
In 1996, with support from the Packard Foundation and other funders, Unilever and World Wildlife Fund partnered to create the Marine Stewardship Council, to change the way fish are caught, marketed and purchased. Why? Because Unilever knew that if nothing changed, it would run out of fish to sell. Staying in business is a powerful driver. And, this collaboration will help assure global food security.
Today, global retailers who have made sustainable seafood commitments represent 76% of the market, with more than $22 billion in estimated seafood sales. In North America, retailers with seafood commitments represent 97% of market share among the top 25 retailers. Similar commitments are growing among companies worldwide.
For enduring change, governments must be central players, and when governments make a commitment to protect and restore ocean resources, they are seeing strong results. At the Packard Foundation, we're working with partners around the world to strengthen fisheries and coastal management – especially in regions where marine productivity or biodiversity are threatened. As one example: In Indonesia, WWF and The Nature Conservancy are working with private sector seafood buyers, USAID, local fishers and government agencies to collect hard-to-gather fisheries data to inform more effective management.
This work results in a triple bottom line: healthier fish populations & ecosystems, a higher standard of living for local communities, and a competitive edge in the global sustainable seafood marketplace.
So why was technology leader David Packard willing to invest a considerable amount of his resources – financial and intellectual – into ocean science, education and conservation solutions through the Packard Foundation and its initiatives and institutions?  Why are Eric and Wendy Schmidt and other contemporary leaders contributing to transformational strategies for oceans now? Because of the power that technology, science and business thinking can bring to ocean management solutions.
Today, more than ever, business needs to drive the solutions, through new approaches and commitments that will ensure economic prosperity in a world of declining resources. In turn, the pioneers will prosper in a world where clients and customers increasingly measure businesses by a triple bottom line.
In closing, at the Packard Foundation and our family of ocean enterprises, we are continually inspired by the example of David and Lucile Packard, and by their values. These values – to innovate, to take risks and be willing to adjust course, and to invest in people – have served us well. We have been proud to support the great ideas and hard work of many of you here in this room.
When my father co-founded the Hewlett Packard Company he put forward a statement of underlying principles that shaped business management practices for years to come. The main idea in those principles was that a company's primary purpose should be to make a contribution that improves peoples' lives. It was a radical idea at the time. But I would venture to say that everyone in this room from business leader to environmental advocate shares that goal – to improve peoples' lives. To achieve it, in today's new reality of rapid environmental change, we must push beyond business as usual. And we must do it soon.
Business leaders have a compelling opportunity – and I believe an imperative — to lead success, through your resources, relationships, intellectual talent and corporate policies. There is no shortage of great ideas and opportunity before us, so let's get to it. I look forward to the outcome of this gathering and thank you all again for your commitment to the future of the ocean.