David trudged through Harkins Slough, the largest part of the freshwater wetlands in Watsonville, California. Like most of his classmates, David had never visited the wetlands, even though they are located just across from his high school. He was reluctant to participate in the day's activities, which had been designed by Watsonville Wetlands Watch's Project Tierra program to show local kids the wetlands and develop their scientific skills.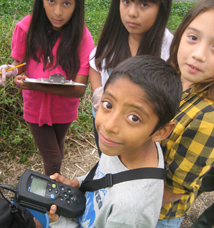 David was indifferent to the nature surrounding him until he took his turn looking through binoculars to check out a bird's nest. He was awestruck by the site of baby ospreys, which were much more fascinating to witness than read about in a textbook. Curious and engaged, he wanted to learn more about the osprey and the wetlands they inhabited.
Through Project Tierra, students like David learn to record data on birds, water quality, and native plant restoration alongside scientists, researchers, and other community members. Supported by seed funding from the Packard Foundation, Project Tierra helped 950 students from 4th through 12th grade explore the area's wetlands in its first year alone.
Watsonville Wetlands Watch is encouraging a new generation of children to protect nature by changing the way they see and interact with their environment.