"When am I ever going to need to know this in real life?" It's the age-old question in classrooms across the United States, a nation that struggles with a 30% dropout rate. This question may stem from boredom, but it also represents an important inquiry into the relevance of education in the post-high school real world.
In 2004, Chris Balme co-founded Spark, an organization that connects community members in the workforce to students in the classroom through an innovative apprenticeship program.  He saw that students needed concrete evidence that putting effort into schoolwork would be a permanently valuable part of their lives.
"There's an enormous untapped educational resource waiting just outside the classroom – our workplaces – and we've been thrilled to see how many professionals take us up on the chance to have an apprentice," says Balme.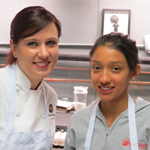 Now serving six cities spanning the country, Spark was piloted in Redwood City, California in 2005.  Balme calls Redwood City the "backbone" of the apprenticeship program since it is here that Spark built the first version of the volunteer recruitment, training tools, and curriculum. With a supportive community, Redwood City continues to grow, eight years later, placing students in apprenticeships focusing on fields such as computer engineering at Cisco, medicine at Stanford University, culinary arts at John Bentley Restaurant, and aviation at the Palo Alto Airport.
The Packard Foundation began supporting the Redwood City apprenticeship program in 2007, recognizing the potential of this model for youth to become further engaged in their communities thereby increasing their potential to succeed academically and professionally.
Success in Redwood City has been the springboard for Spark to launch in San Francisco, Oakland, Los Angeles, Chicago, and Philadelphia. Spark goes where the need is present with high dropout rates and large numbers of at-risk youth. Balme says, "One of the most important lessons we've taken from Redwood City is the importance of flexibility – every city, neighborhood, and school is different. From transportation plans to leadership class scheduling, we always have to be ready and able to adapt the program to best fit the needs of those we work with, whether students, teachers, volunteers, or families."
A recent study on Spark has shown that 98% of alumni have graduated high school or are on track to graduate high school, a significant increase in the retention rate for students with equivalent demographic factors. Additionally, Spark students present a significantly lower truancy rate and suspensions than the district average.
As the Spark team works to reach more middle school students in more cities across the country, perhaps fewer and fewer parents and teachers will be left answering, "When am I ever going to need to know this in real life?"