When first asked what his agency was doing to support third grade reading proficiency, Preston Prince, Executive Director of the Fresno Housing Authority, recalls that his response was, "'Nothing.' We were a housing agency and we didn't get involved in education." Today, Prince's response to that question is very different. Fresno County's innovative Birth Through Third Grade Challenge is breaking down traditional divides—like those between housing services and education—to support children's success.
In recent years, national momentum has grown around the importance of closing the academic achievement gap. Research indicates that children's earliest experiences shape their likelihood of success in school and, in turn, that academic achievement is a critical indicator of future outcomes, including graduation rate, earning potential, and quality of life. Third grade reading, in particular, is acknowledged as a key benchmark of future academic success.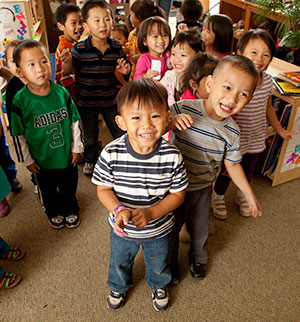 Fresno County is one of the poorest in the nation, with almost 25% of the population living in poverty. The academic achievement gap holds true for Fresno students: in Fresno County, 56% of third grade students scored below proficient in English Language Arts on the 2011 STAR California Standards Test (CST). The results were even worse among students classified as economically disadvantaged and English Language Learners.
Faced with this data, the David and Lucile Packard Foundation, together with First 5 Fresno County, the Fresno County Office of Education, and Early Edge California, launched the Fresno County Birth Through Third Grade Challenge (B3 Fresno County). Their goal? Develop a comprehensive model for addressing the reading gap through a birth through third grade approach.
B3 Fresno County looks at education through an innovative lens. The B3 partners recognized that the first years of a child's life are the foundation for all of their later learning, behavior, and health, and that many different players have a role in supporting children's success in these early years. In Fresno County, the responsibility for supporting academic achievement goes far beyond the K-12 school system. Public and private partners have united to lift up Fresno County's children.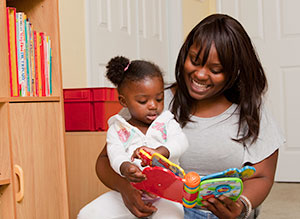 First 5 Fresno County brought together leaders from around the community, including school district superintendents, public agency directors, and leaders of community social service organizations to examine current practice and propose new policies and approaches to serving children from birth through third grade. These stakeholders engaged in a year of planning.
A number of new partnerships and projects have resulted from the first year of the project, and new ideas for collaborating to support children and families continue to develop. Participants like Preston Prince, from the Fresno Housing Authority, now view their work in entirely new ways. The Housing Authority has partnered with Fresno Unified School District to establish early childhood learning centers at public housing sites and host parent orientation and education sessions in Housing Authority communities. In Central Unified School District, the public library and the school district are working together to offer expanded library hours at public school sites.
These newly adopted strategies have catalyzed the re-engineering of the public systems that support Fresno County's children and families. Just as importantly, they have changed the way Fresno County community members view their roles in helping children learn and read proficiently by the third grade. As a result, it is now believed that the community has a role to play in education.

To learn more about the Fresno County Birth Through Third Grade Challenge, visit www.b3fresnocounty.com.