When Nina Simon walked into The Museum of Art and History at the McPherson Center (MAH) on her first day in the summer of 2011, the museum was financially on the brink and extremely close to closure.  Previously a consultant to art institutes including the Smithsonian, SFMOMA, and the Monterey Bay Aquarium, Nina was armed will all kinds of ideas of how to pull MAH up from its bootstraps and turn it into a thriving cultural center for Santa Cruz.
"I didn't just want it to be a museum or an art space or an education space. I wanted it to be an anchor community space for Santa Cruz," said Simon.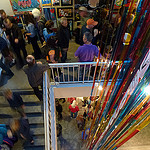 Over the past year and a half, MAH has become just that. The team has taken the sleepy and struggling museum and turned it into the place to be in Santa Cruz. First Fridays, in particular, have become a great success offering extended hours and free admission with various activities and themes to engage families and young professionals.  Throughout the nation, arts attendance has become increasingly events-based so it is engagements like First Fridays that have greatly extended MAH's reach into the community.
MAH is sure to keep quiet times throughout the week as well, where the space is more reminiscent of a traditional museum. While press attention has focused on the louder times, many afternoons are saved for members and community residents who prefer the softer side of MAH.
By staying engaged with the museum's longtime supporters and reeling in new attention from a younger, more culturally diverse audience, the museum is firmly back on its feet. While the museum still considers itself under transformation, the changes that have taken place have been vital.
In just the first six months of leadership, Nina and her team increased attendance by 57%, increased new membership by 27%, and increased individual giving by 400%. This bounce in interest clearly shows how much Santa Cruz is dedicated to preserving and nurturing this community space, making MAH the hottest place to be on a Friday night and the most comfortable place to be on a Wednesday afternoon.
The Packard Foundation believes that all communities deserve a vibrant community art space like the MAH. A prospering art scene nurtures creativity and imagination and provides a safe space for people to gather and connect. David and Lucile Packard had a strong belief in individual leadership and its ability to transform. Nina's leadership has been that transformation in Santa Cruz and the community is greatly benefiting because of her and her team's commitment to the MAH.