"Who would have thought that a short one-paragraph post on MomsRising.org about my personal experience with the new healthcare reform act would lead to me meeting President Obama! But that's exactly what happened. About a week after I posted the exciting news that my family's new health insurance cannot exclude my son's pre-existing condition (thanks to the new law), I received a call from the White House asking me for more information about my situation."
-Dawn Josephson, Mom, MomsRising blogpost
In partial thanks to a $35,000 Organizational Effectiveness grant, journalists, activists, public policy makers and even the President of the United States can now, with a simple mouse click, read a real  story from a local mom fighting for the economic security and healthcare of her family.  Not only that, those wanting to make a difference for families can quickly mobilize the advocacy power generated by the nearly 1.2 million email members and a reach over 3 million social media and blog readers of MomsRising.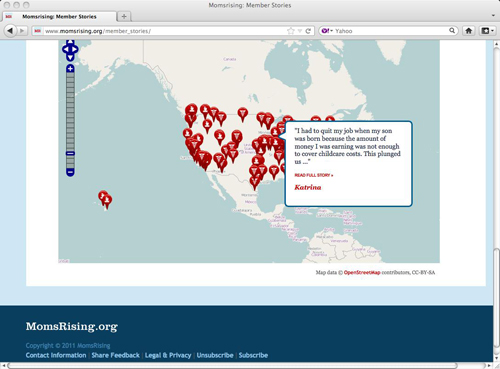 MomsRising – a grantee of the Packard Foundation's Children, Families and Communities Program –advocates for family economic security and children's health.  The very "virtual organization" has campaign directors, mostly moms, working out of their home offices located across the US. In 2009, MomsRising's members took over a million online actions in support of family-friendly policies, and were covered in the media over 1,000 times. 
The ease of the story collection page has resulted in thousands of stories from families across the country struggling with health care challenges.  MomsRising displays these stories in an interactive map that the media, leaders, and the general public can easily access.  This map of stories offers decision makers clear picture and personal testimony of what families are struggling with across the country.  It also allows other moms and family members to comment, connect, organize and advocate for each other.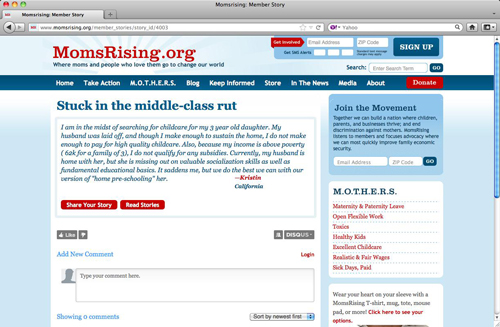 Stuck in the middle-class rut
I am in the midst of searching for childcare for my 3 year old daughter. My husband was laid off, and though I make enough to sustain the home, I do not make enough to pay for high quality childcare. Also, because my income is above poverty (62k for a family of 3), I do not qualify for any subsidies. Currently, my husband is home with her, but she is missing out on valuable socialization skills as well as fundamental educational basics. It saddens me, but we do the best we can with our version of "home pre-schooling" her.
—Kristin, CA
 Charlie
My son Charlie was born at 27 weeks (almost 3 months early) weighing only 2 pounds, 10 ounces. Because of the amazing high-quality medical care he received at Children's Hospital of Orange County, he is now a healthy, thriving 4 year-old exceeding all of his developmental milestones… I am so grateful and only wish all parents and children the same results. Don't cut funding to our teeniest, most vulnerable citizens!
—Jennifer, CA
Where has our money really gone??
In my family, there are three children who have had serious auto-immune diseases. Two of them have had to rely on Social Security Disability benefits and Medicare/Medicaid because they were completely unable to work and care for themselves. Additionally, my sister gave birth to a little boy with hypo-plastic left-heart syndrome. He would have died immediately, had it not been for the intervention of the Governor's office in Nevada to help him get the care he needed through Social Security and Medicaid…
—Michelle, UT
The new strategic shift toward storytelling and text messaging has already paid off.  According to Kristin Rowe-Finkbeiner, the executive director of MomsRising, "the stories tool is the backbone of our many campaigns, and through the use of new cutting edge technology, the stories built a groundswell of public support and helped change the public narrative around the health care issue.  Over 500 stories from 43 states helped to influence public opinion and educate leaders in a way that protected Medicaid from proposed cuts." 
While not all OE grants result in a grantee volunteer meeting the President of the US or even a substantial public policy victory, most are like the MomsRising grant in that they build a new organizational capacity that enables the organization to better achieve its social change mission.
Read more stories about Packard's Organizational Effectiveness grants in action.